Dylan Findley
Aquatics Experience ManagerSwim Teacher Trainer
Above water or below I want to show you the beauty and freedom water can give. As a competitive Individual Medly swimmer who became a scuba diver and a Water Fitness instructor, every age and skill can grow at Diventures!
Phone: 608.630.9800Email: [email protected]
Emily Jaeger
Aquatics Experience LeadSwim Teacher
My love of swimming began at a very early age. One of my favorite memories is swimming the lake with my family around age 4. I love working with kids and helping them follow their dreams, whatever they may be. I have a background in making magic with Micky Mouse and friends at Walt Disney World.
Phone: 608.630.9800
Josie Gilbert
Swim TeacherLifeguard
Josie has always loved swimming since she was put in lessons at a young age. She was a competitive swimmer for eight years. She is now ready to help kids make great swimming memories just like she has.
Phone: 608.630.9800
Lindsey Kreul
Swim TeacherGreeter
Helping people of all ages and experiences achieve their goals has always been a passion of Lindsey's. She loves nothing more than seeing the smile on someone's face after they've reached their goal. Lindsey enjoys being able to teach new skills and help figure out how each person learns and what works best for them.
Michelle McAllister
Swim Teacher
I have a passion for teaching others how to be safe in and around the water while improving their aquatic abilities and still having fun!
Phone: 608.630.9800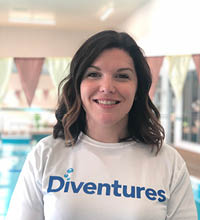 Sara Holley
Store Manager
Swimming has been a passion of mine since my first lesson at age 4. I was a competitive swimmer for over 10 years, traveling all over the United States and Canada for competitions. I come from a family of avid water skiers and enjoy spending time at the lake.
Phone: 608.630.9800Email: [email protected]
Toni Kraile
Swim TeacherGreeter
While Toni wouldn't consider herself an avid swimmer yet, she loves the pool and being in the water. She studied music and education in college and is excited to use some of those skills at Diventures!