Aiden Hoffman
Swim Teacher
My aquatics background spans over 8+ years and includes competitive swim and teaching swim lessons as a Red Cross Certified Life Guard. Before I became a lifeguard, I taught my youngest brother how to swim which inspired me to become a certified swim teacher. I enjoy helping new swimmers learn to love the water and help them achieve their aquatic goals!
Phone: 608.630.9800
Dylan Findley
Swim Teacher InstructorAquatics Admin
Above water or below I want to show you the beauty and freedom water can give. As a competitive Individual Medly swimmer who became a scuba diver and a Water Fitness instructor, every age and skill can grow at Diventures!
Phone: 608.630.9800Email: [email protected]
Emily Jaeger
Swim Teacher
My love of swimming began at a very early age. One of my favorite memories is swimming the lake with my family around age 4. I love working with kids and helping them follow their dreams, whatever they may be. I have a background in making magic with Micky Mouse and friends at Walt Disney World.
Phone: 608.630.9800
Frances Meza
Swim Teacher
Frances has been in the Marine Corps since 2007 and earned a survival swim qualification of intermediate. She enjoys teaching students to learn to love the water and conquer any fears.
Phone: 608.630.9800
Jennifer Cloute
Swim Teacher
I grew up around the lakes and rivers of southern Wisconsin. My family would vacation in Texas and we would spend hours in the Gulf of Mexico. I love being in and around the water! Teaching others about my passion for aquatics is a dream come true.
Phone: 608.630.9800
Jesse Vogeler-Wunsch
Swim Teacher
I have been swimming my whole life and have been a teacher for a number of years. I taught college physics for six years, ballroom dance for one year, and chess for one summer. I love the coordination and physics involved in swimming. I am happiest sharing my passion with children and adults.
Phone: 608.630.9800
Jocelyn DiRienzo
Swim TeacherWater Fitness Instructor
Hi! I'm Jocelyn, and I was a competitive swimmer for about 10 years, mainly swimming the breaststroke. I decided to become a swim instructor because I know how much fun and great exercise swimming can be! In addition, I love to be creative and help others learn. I can't wait to meet you and get in the water!
Phone: 608.630.9800
Madison Edgren
Swim Teacher
I am full-time elementary education student. One of my life's passions is working with children. I have over 10 years of competitive swimming experience and three years of swim instruction experience with students aged 6 months to 21 years. My goal is to build my student's self confidence and foster a lifetime love of water.
Phone: 608.630.9800
Michelle McAllister
Swim Teacher
I have a passion for teaching others how to be safe in and around the water while improving their aquatic abilities and still having fun!
Phone: 608.630.9800
Nathan Boehm
Aquatics Experience Manager Swim Teacher Instructor
Nathan found his love for water at a young age while attending Boy Scout Camp and during summer adventures at the lake. He has 12 years of experience as a certified life guard. He is also a certified scuba diver. He believes safety while enjoying the water is a top priority and enjoys teaching all ages the joys of the water.
Phone: 608.630.9800Email: [email protected]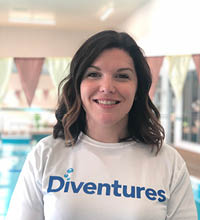 Sara Holley
Store Manager
Swimming has been a passion of mine since my first lesson at age 4. I was a competitive swimmer for over 10 years, traveling all over the United States and Canada for competitions. I come from a family of avid water skiers and enjoy spending time at the lake.
Phone: 608.630.9800Email: [email protected]