Joey Lankford
Store DirectorIndependent Open Water Instructor & Swim Teacher
Joey is an outdoorsman, ocean addict and adrenaline junkie, but most importantly, he is an ambassador for those who like to have a good time! He is a Level 5 diver and an Open Water Instructor. His passion for the water began as a small child, and his career at Diventures allows him to share that passion with others every day.
Phone: 417.883.5151Email: [email protected]
Callie Fetter
Scuba Experience ManagerDivemaster
I have always been passionate about the ocean and marine life since I was little. I knew I always wanted to get into scuba diving and explore new opportunities in the water. My favorite conversations revolve around sharks. I also love to travel, hike, and kayak.
Phone: 417.883.5151Email: [email protected]
Shyanne Frecks
Aquatics Experience ManagerSwim Teacher Trainer, Lifeguard & Lifeguard Instructor
Shyanne is currently a Mast Diver and strives to one day become a Dive Instructor and Trip Leader. She has always loved being around water and has been a Lifeguard since 2018. Shyanne also loves gardening and kayaking. She enjoys training new staff members and helping students reach their goals. Shyanne chose to work at Diventures because she wanted to be able to lifeguard and teach swim lessons year-round.
Email: [email protected]
Adrianna Avila-Wilkins
Swim TeacherLifeguard
Adrianna grew up around aquatics and loved doing swim team at Drury in the past. When she was younger she saw at Diventures and returned to teach!
Andrew Quinlan
Independent Open Water Diver Instructor
Andrew was certified in 2007 and has always had a passion for the water and diving. As an open water diver instructor and the president of Diventures Landlocked Scuba Club, he gets to share his passion for diving with others. You can find Andrew diving year-round whether it be in the Caribbean or a lake! Deep depths are where he thrives and looks forward to stepping into extended range to explore a whole new abyss.
Phone: 417.883.5151Email: [email protected]
Antione Lockhart
Customer Experience SpecialistSwim Teacher & Lifeguard
Antione is an SSI Master Diver, and he started his dive journey in 2016 on a discover dive in Hawaii. He has a passion for pursuing oceanography in addition to the study of exotic species. His hope is to spend his love and passion for the water with others.
Phone: 417.883.5151
Colby Entzminger
Swim Teacher & LifeguardDeck Manager
Having graduated from the DiVentures swim program in 2016, my love for the water has brought me back! I'm a student at Evangel and an aspiring Children's pastor. I enjoy the water, hiking, drawing, and writing.
Phone: 417.883.5151
Curtis Mattson
Independent Dive Professional
Curtis got into scuba diving on a whim and has now been diving for five years. He enjoys getting to meet new people through diving and appreciates the lasting friendships that the sport has provided. His daughter recently got certified and his son hopes to do the same – once he gets a little older. Curtis has been diving in Belize, Honduras (Roatan) and Egypt (Red Sea), in addition to multiple lakes close to his home in Missouri. The excitement of diving, relaxing in the sun, meeting new people and creating lasting memories is what makes every dive trip so much fun!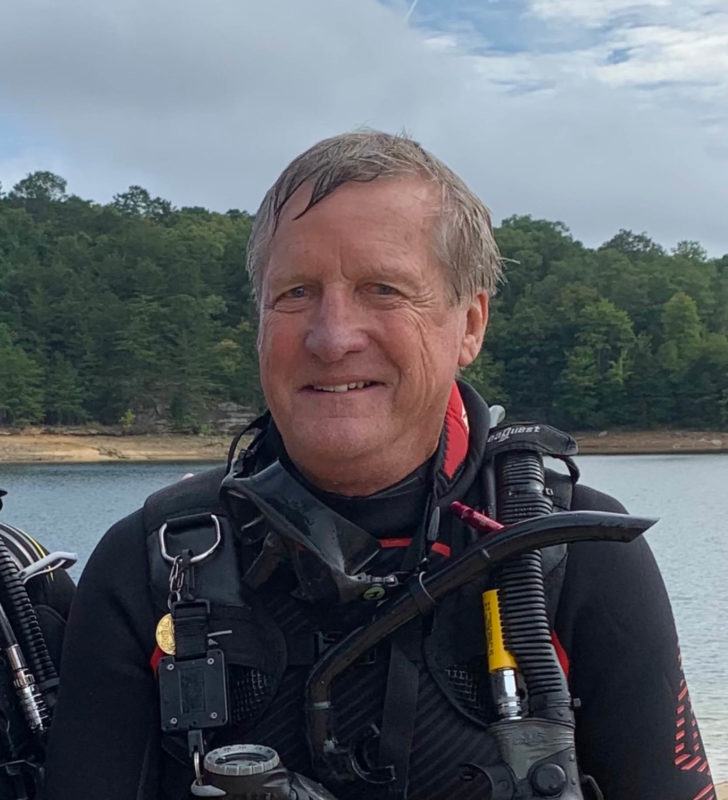 Don Peterson
Independent Instructor Certifier
Don is a level 10 diver, has been diving since 1964 and teaching safe scuba since 1966. He's a world-traveling diver with extensive experience and a former scuba shop owner. He loves the people he teaches, getting to share with them his love of the sea, and making sure they enjoy safe diving!
Phone: 417.883.5151Email: [email protected]
Doug Baker
Independent Open Water Diver Instructor
After learning to dive in 2008, I knew I needed to share my passion for introducing students to scuba and helping them to become safe and comfortable divers.
Phone: 417.883.5151
Drake Slagle
Customer Experience SpecialistService Technician
Drake is from Colorado and found scuba diving in one of his classes at Missouri State University. He got certified at Diventures and has been addicted to diving ever since.
Eli Kacprowicz
Customer Experience Specialist
I was a student in the swim program at Diventures when I was young. I always admired the Scuba Staff back then and am so grateful that I get to be a part of the team!
I earned my Open Water certification at Diventures in 2022 and have been in love with diving ever since. I have a passion for getting people involved with diving and sharing my knowledge of scuba.
Emilie Bird
Swim Teacher & LifeguardDeck Manager
Emilie has over two years of swim team experience. She believes that swimming skills are some of the most important things a person can learn in their life because it could save your life. On top of that, she thinks swimming is a fun time and wants to share it with others. She chose to work at Diventures because swimming is fun and this was her opportunity to be in the pool and teach others to enjoy it as well.
J.T. Simpson
Customer Experience Specialist
I have always had a passion for the outdoors. I love meeting new people and building connections. I am not scuba certified but am working towards it.
Phone: 417.883.5151Email: [email protected]
James Presley
Independent Open Water Diver InstructorService Technician
James started diving in 2015 and is a level 4 diver and a Master Diver. He got into the sport because he loves the ocean, especially Mandarin Gobies.
Phone: 417.883.5151Email: [email protected]
Jerod Pheonix
Independent Open Water Diver Instructor
Jerod's aquatic background spans over 20+ years. He received 80% of his training at Diventures and enjoyed every minute of it! He is excited to share his love of scuba diving with his students and help them accomplish their underwater goals!
Phone: 417.883.5151
Jim Arneson
Independent Open Water Diver Instructor
Jim has been diving since 1996 and is dedicated to the sport. His passion is teaching others to explore the underwater world, both basic open water classes and specialties.
Phone: 417.883.5151
Kali Myers
Swim Teacher & LifeguardDeck Manager
Kali Myers is an experienced Deck Manager and Swim Teacher. She's been at Divenutres since 2021. Kali is a former Delta pilot and mom of three. She graduated from Kickapoo in 2017. As a water lover, she can't wait to see you at your next lesson. Kali chose to work at Diventures to connect with families and make a difference.
Kevin Christ
Independent Open Water Diver Instructor
I enjoy introducing customers to an adventure that few people get to experience. Not every student starts out being able to put on a mask and jump in the water. I work with each student at their comfort level, teaching them how to be a safe diver while having fun.
Phone: 417.883.5151Email: [email protected]
Levi Ekstrom
Customer Experience Specialist
Levi is a Level 2 diver and has been diving for almost a year. He has fallen in love with diving after being terrified to even be in a lake! Levi is confident in his knowledge of scuba equipment and is excited to help his customers find the best gear for their specific needs. He eventually wants to become a dive instructor and is looking forward to expanding his scuba knowledge while working with passionate people.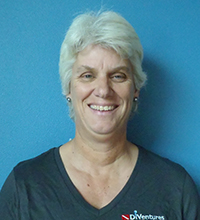 Linda Maune
Independent Open Water Diver Instructor
I absolutely love to watch people of all ages take their first breath underwater! Seeing people go from above the water to below the water, and realizing there is another world underwater, is priceless!
Phone: 417.883.5151Email: [email protected]
Maddy Wilson
Customer Experience Specialist
Maddy has been scuba certified since she was ten years old and has been in love with scuba ever since. Maddy has over 100 logged dives and her favorite places to dive are Cozumel and Roatan. She loves to travel and learn new things, especially about marine life! Her favorite things to see while diving are green sea turtles. Maddy chose Diventures because she has a passion for teaching others about the wonders of scuba. She has also felt at home when at Diventures and wanted to be part of our work family!
Nolan Hardison
Director of Customer Experience Instructor Trainer
Nolan has been diving since 1985 and an instructor since 1989. He has taught all levels of diving, wide range of specialties and been certified as an Instructor Trainer and Certifier. Nolan was recognized for his dedication to the highest standards of teaching by being awarded the NASDS Instructor of the Year in 1998.
Phone: 417.849.9455Email: [email protected]
Olivia Fiorino
Swim Teacher & LifeguardDeck Manager
Olivia has been around water for a very long time! She started swimming competitively when she was 15 and fell in love with it. She taught her first swim lessons at the age of 16 and it changed her life. She is now studying social work with a plan to work with high-risk and underprivileged children.
Owen Gray
Swim TeacherLifeguard
Owen is a junior at RHS. He runs track and is extremely fast. Owen is a problem solver and loves to surf. He treats school as a social event and loves blonde dogs. Owns favorite season is summer because he is super tan. He decided to work at Diventures so he could become the greatest lifeguard ever!
Peyton Socia
Swim Teacher & LifeguardDeck Manager
Peyton is a junior at Republic High School. He plays lacrosse and is part of NHS. Peyton has been diving since 2019 and has over 100 dives. He is currently in flight school and plans to become a pilot once he graduates.
Ryan Oestreich
Store DirectorIndependent Open Water Diver Instructor
As a level 5 diver, I enjoy helping teach students about the awesome sport of diving. Diventures is the reason I am a dive professional, have developed skills and gained experience diving. I love being able to share what I learn with our customers.
Phone: 417.883.5151Email: [email protected]
Shawntel Robertson
Aquatics Experience LeadSwim Teacher, Lifeguard & Lifeguard Instructor
Shawntel is a lover of nature, adventure, and helping others. She is a Level 1 diver and loves that teaching swim combines her passions for the water and people. She enjoys helping new swimmers overcome their fears while learning important safety skills. Shawntel also enjoys helping advanced swimmers crush their goals and learn new techniques.
Email: [email protected]
Will Shoults
Customer Experience SpecialistDive Master
My background involves over 16 years of watersport-related activities at the lake. I have grown up around the water my entire life. I love seeing the look on people's faces when they accomplish something new.
Phone: 417.883.5151Email: [email protected]