Team
A great experience across all water activities
Our scuba instructors are SSI certified and hold the highest level of recreational dive training. With tens of thousands of hours of diving experience and more than 50,000 logged dives at locations all around the world, they have the experience and knowledge to educate you to be a safe and confident diver.
Our retail staff and service team members are certified scuba divers with extensive knowledge about scuba and diving equipment.
Our swim teachers are certified Swim Schools International teachers. They use the latest swim curriculum and teaching techniques. More importantly, they LOVE kids! With a 4:1 student-to-teacher ratio, your child will get to know his or her teacher and become comfortable learning new skills in water.
DEAN HOLLIS
Founder
Open Water Diver Instructor
Dean has been diving since he was 16 and still loves it as much as when he started. Dean is a level 10 diver and teaches several specialties, including spearfishing and scuba rangers. He leads a few trips each year, usually in the Caribbean, because they are close and easy to get to and he prefers the more authentic islands. Dean founded Diventures to help as many people as possible enjoy spending time in and around the water.
Phone: 402.933.6251
Email: dean.hollis@diventures.com
WILL MUNROE
General Manager
Open Water Diver
With a deep passion for both the outdoors and customer service, Will brings nearly two decades of business leadership experience to the Diventures team. Will has grown up in and on the water and is energized by sharing his love of the outdoors with others. Believing firmly in the transformational power of the outside world to positively impact lives, Will leads our team in delivering and expanding our unparalleled customer experience and commitment to safety and fun in the water.
Phone: 531.999.8425
Email: william.munroe@diventures.com
DEANN OLSEN
Chief Financial and Administrative Officer
DeAnn has over 35 years of experience in accounting and finance, and enjoys helping others and any activities that involve being outside.
Phone: 531.999.3843
Email: deann.olsen@diventures.com
FRANK WELLS
Instructor Certifier
Frank has been diving since the 60's with dive experiences across the world. Certified as an instructor in 1975, he has the distinction of being a Course Director Emeritus with NAUI, an Instructor for the elite SSI Platinum Pro 5000, an SSI Instructor Certifier and level 10 diver. His knowledge, demeanor and expertise make him an excellent instructor and a great dive buddy.
Phone: 402.933.6251
Email: frank.wells@diventures.com
BENJAMIN SNYDER
Aquatics Program Director
Certified Instructor Trainer

Ben has over 15 years of aquatics experience including teaching swim lessons and training lifeguards. He specializes in working with those with special considerations and loves sharing his passion and helping everyone reach their desired goals in the water!
Phone: 402.933.6251
Email: benjamin.snyder@diventures.com
KIM INFIELD
Scuba Program Director
Master Instructor 
Kim has been a scuba diver for 19 years and a dive professional for 13. She brings extensive experience in recreational, technical, and adaptive instruction as well as expertise in dive center logistics. She strives to create safe, comfortable, and confident divers through guiding the world-class scuba instruction and service offered at Diventures. In her opinion, there's no feeling above the surface that quite matches a perfect dive.
Phone: 404.981.0710
Email: kim.infield@diventures.com
MEGAN OSWALD
Travel Program Director
Divemaster
Megan fell in love with the underwater world the first time she went diving and she loves helping people discover it's beauty. As a level 5 diver, she appreciates her career focused on her passion for diving and the water. And she is always excited to talk about diving and traveling.
Phone: 402.614.9232
Email: megan.oswald@diventures.com
JOANN HAACK
Retail Program Director
Advanced Open Water Instructor
I have always been drawn to the underwater world and the beauty I've seen in pictures and movies. Once I learned it's possible to dive in Iowa, I never looked back. As a level 8 diver, I have helped many new divers take their first breaths underwater and have taught ages 10 to 66 since becoming a dive professional in 2008.
Phone: 319.665.2741
Email: joann.haack@diventures.com
ERIN WHITE
Merchandising Director
Open Water Diver Instructor
Erin was a competitive swimmer growing up and has always had a love for the water. Her background in retail and her experience as a level 5 diver makes her a valuable resource for our customers. Erin's favorite thing to do is to help others become passionate about the underwater world.
Phone: 417.883.5151
Email: erin.white@diventures.com
MATT TIMM
Store Manager, Omaha
I have over 20+ years of retail management experience with a primary focus on providing great experiences and excellent customer service.
Phone: 402.933.6251
Email: matt.timm@diventures.com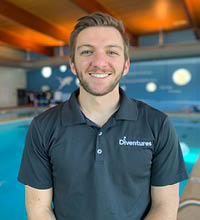 RYAN OESTREICH
Store Manager, Springfield
Open Water Diver Instructor
As a level 5 diver, I enjoy helping teach students about the awesome sport of diving. Diventures is the reason I am a dive professional, have developed skills and gained experience diving. I love being able to share what I learn with our customers.
Phone: 417.883.5151
Email: ryan.oestreich@diventures.com
RYAN BRUNS
Store Manager, North Liberty
Open Water Diver
Ryan grew up spending a lot of time on the water and water activities have always been a favorite hobby of his!
Phone: 319.665.2741
Email: ryan.bruns@diventures.com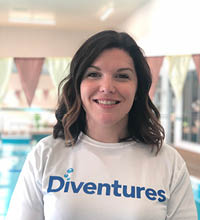 SARA HOLLEY
Store Manager, Fitchburg and Sun Prairie
Swimming has been a passion of mine since my first lesson at age 4. I was a competitive swimmer for over 10 years, traveling all over the United States and Canada for competitions. I come from a family of avid water skiers and enjoy spending time at the lake.
Phone: 608.630.9800
Email: sara.holley@diventures.com
KATY ROBERTS
Operations Strategist
Assistant Instructor
Katy received her Junior Open Water Diver certification in 2002 and has been doing her best to explore the other 70% of our planet ever since. She joined Diventures in 2010, is a level 7 diver, and has logged over 300 dives in locations around the world. She has a wealth of knowledge concerning dive equipment, international travel, and most things scuba.
Phone: 402.315.4405
Email: katy.roberts@diventures.com
ALYSSA GUMM
Financial Strategist
Open Water Diver

Alyssa is the happiest underwater! She was a competitive swimmer for 10 years and has a strong passion for the water. She is a mermaid, level 3 scuba diver, and fitness instructor.
Phone: 417.883.5151
Email: alyssa.gumm@diventures.com
VAL BUCHHOLZ
Bookkeeper
Val has worked in general accounting and spent the last 20 years of her tenure working in Marketing. She loves spending her free time exercising, traveling, and watching and attending family and sports activities.
Phone: 402.315.9824
Email: valerie.buchholz@diventures.com
SIERRA STRATTAN
Accounting Admin
Sierra earned her open water diver certification in 2016 and has enjoyed diving ever since. She studied finance and business technology at the University of Miami.
Phone: 402.315.9824
Email: sierra.strattan@diventures.com
DAVID HOLLIS
Training Manager
Assistant Instructor
David's passion for scuba started before he turned ten while doing Try Scubas with his dad. His passion for the ocean and all outdoor activities has only grown since. A progressing Dive Professional; David's favorite place to dive (so far) is Grand Turk but he continues to explore all dive destinations.
Phone: 402.502.3785
Email: david.hollis@diventures.com
ERICA JENSEN
Travel Administrator
Open Water Diver
I found my love for travel when I moved abroad to New Zealand when I was in college. I have since traveled all over and I am so excited to help our clients experience everything this world has to offer! I'm thrilled to be part of the team here at Diventures!
Phone: 402.933.6251
Email: erica.jensen@diventures.com
CHRISTINE HUGHEY
Chief Marketing and Strategy Officer
Divemaster
Christine grew up spending summers at the pool and at the lake. She's a frequent traveler and has been on dive trips around the world. She received her scuba certification in 2017 and is a level 5 diver. She enjoys helping people discover the beauty of the underwater world and experience life-changing travel adventures.
Phone: 402.502.7695
Email: christine.hughey@diventures.com
MOLLY SPELTS
Marketing Manager

With a desire for travel and summer days at the lake, Molly brings her passion for creativity to our marketing team. When she's not with her Diventures team, you'll find Molly planning her next grand adventure and crafting DIY projects.
Phone: 531.999.3844
Email: molly.spelts@diventures.com