A great experience across all water activities
Our scuba instructors are SSI certified and hold the highest level of recreational dive training. With tens of thousands of hours of diving experience and more than 50,000 logged dives at locations all around the world, they have the experience and knowledge to educate you to be a safe and confident diver.
Our retail staff and service team members are certified scuba divers with extensive knowledge about scuba and diving equipment.
Our swim teachers are certified Swim Schools International teachers. They use the latest swim curriculum and teaching techniques. More importantly, they LOVE kids! With a 4:1 student-to-teacher ratio, your child will get to know his or her teacher and become comfortable learning new skills in water.
Dean Hollis
Founder
Advanced Open Water Diver Instructor
Dean has been diving since he was 16 and still loves it as much as when he started. Dean is a level 10 diver and teaches several specialties, including spearfishing and scuba rangers. He leads a few trips each year, usually in the Caribbean, because they are close and easy to get to and he prefers the more authentic islands. Dean founded Diventures to help as many people as possible enjoy spending time in and around the water.
Phone: 402.933.6251
Email: [email protected]
Will Munroe
General Manager
Advanced Open Water Diver
With a deep passion for both the outdoors and customer service, Will brings nearly two decades of business leadership experience to the Diventures team. Will has grown up in and on the water and is energized by sharing his love of the outdoors with others. Believing firmly in the transformational power of the outside world to positively impact lives, Will leads our team in delivering and expanding our unparalleled customer experience and commitment to safety and fun in the water.
Phone: 531.999.8425
Email: [email protected]
DeAnn Olsen
Chief Financial and Administrative Officer
DeAnn has over 35 years of experience in accounting and finance, enjoys helping others and any activities that involve being outside.
Phone: 531.999.3843
Email: [email protected]
Kim Infield
Senior Director of Store Support
Master Instructor 
Kim has been a scuba diver for 19 years and a dive professional for 13. She brings extensive experience in recreational, technical, and adaptive instruction as well as expertise in dive center logistics. She strives to create safe, comfortable, and confident divers through guiding the world-class scuba instruction and service offered at Diventures. In her opinion, there's no feeling above the surface that quite matches a perfect dive.
Phone: 515.599.6610
Email: [email protected]
Pat Dunn
Scuba Program Director
Instructor Certifier
Pat Dunn's scuba experience dates well before he opened Thunder Island Divers Director in 1979, a three-store chain he successfully ran until 1992. Having tried scuba at the age of 10 in a pond in a city park he was hooked. After certifying in 1977, he moved to Hawaii to become a Scuba Instructor. Through his years of diving and instruction, Pat has been a PADI Instructor and Course Instructor. Since joining SSI in 1997, he has achieved the levels of SSI Platinum Pro 50000 Instructor, Instructor Certifier, and most recently, International Training Director, of which he is only one of two in the United States.
Email: [email protected]
Ben Snyder
Swim Program Director
Swim Teacher Instructor Trainer

Ben has over 15 years of aquatics experience including teaching swim lessons and training lifeguards. He specializes in working with those with special considerations and loves sharing his passion and helping everyone reach their desired goals in the water!
Phone: 402.933.6251
Email: [email protected]
Megan Oswald
Travel Program Director
Divemaster
Megan fell in love with the underwater world the first time she went diving and she loves helping people discover it's beauty. As a level 5 diver, she appreciates her career focused on her passion for diving and the water. And she is always excited to talk about diving and traveling.
Phone: 402.614.9232
Email: [email protected]
JoAnn Haack
Director of New Business Development 
Instructor Trainer
I have always been drawn to the underwater world seen in pictures and movies. Once I learned it's possible to dive in the Midwest, I never looked back. I have been teaching diving since 2008. I left my corporate engineering job in 2016 to be in the diving industry full-time with Diventures. My favorite classes to teach include Science of Diving and the pro classes. I have progressed to Assistant Instructor Trainer with SSI, which means I  can teach the teachers of diving. I have had the opportunity to experience traveling to many dive destinations. From diving in Illinois to Indonesia and Grand Cayman to Galapagos – dive travel is my passion. I love leading trips which gives me the opportunity to use diving as a way to show my guests the world – both above and below water. Come divin' with me!
Phone: 319.665.2741
Email: [email protected]
Erin White
Director of Merchandising
Open Water Diver Instructor
Erin was a competitive swimmer growing up and has always had a love for the water. Her background in retail and her experience as a level 5 diver makes her a valuable resource for our customers. Erin's favorite thing to do is to help others become passionate about the underwater world.
Phone: 417.883.5151
Email: [email protected]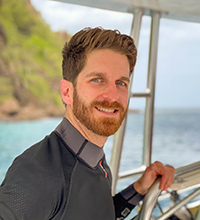 David Hollis
Training Program Director
Assistant Instructor
David's passion for scuba started before he turned ten while doing Try Scubas with his dad. His passion for the ocean and all outdoor activities has only grown since. A progressing Dive Professional; David's favorite place to dive (so far) is Grand Turk but he continues to explore all dive destinations.
Phone: 402.502.3785
Email: [email protected]
Matt Timm
Store Manager, Omaha
Open Water Diver
I have over 20+ years of retail management experience with a primary focus on providing great experiences and excellent customer service.
Phone: 402.933.6251
Email: [email protected]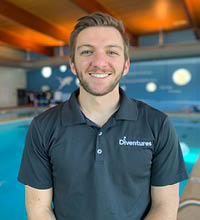 Ryan Oestreich
Store Manager, Springfield
Open Water Diver Instructor
As a level 5 diver, I enjoy helping teach students about the awesome sport of diving. Diventures is the reason I am a dive professional, have developed skills and gained experience diving. I love being able to share what I learn with our customers.
Phone: 417.883.5151
Email: [email protected]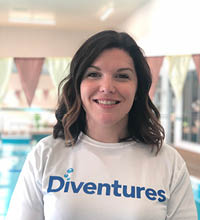 Sara Holley
Store Manager, Fitchburg and Sun Prairie
Open Water Diver
Swimming has been a passion of mine since my first lesson at age 4. I was a competitive swimmer for over 10 years, traveling all over the United States and Canada for competitions. I come from a family of avid water skiers and enjoy spending time at the lake.
Phone: 608.630.9800
Email: [email protected]
Chelsea Foster
Store Manager, Atlanta
Divemaster Instructor
Bio coming soon.
Phone: 770.992.3772
Email: [email protected]
Beth VanPelt
Store Manager, Lexington
Open Water Instructor

Beth knew she wanted to be a scuba diver when she was just four years old after seeing the diver down flags at her local lake growing up. As she got older, she didn't know if it would ever be a possibility, but her life absolutely changed in 2017 when she met the owners of New Horizons Diving.  she took her first breath underwater at the pool she managed and she was absolutely hooked. Since then, she's completed almost 300 dives, become an Open Water Instructor, and has made life-long bonds with her dive buddies. her favorite type of diving is anything involving sharks, wrecks, or caverns!
Phone: 859.277.1234
Email: [email protected]
Steve Knickerbocker
Store Manager, Kansas City
Master Diver Trainer
Steve's love of all things underwater started in his early years as a junior diver. He grew up in the midwest which meant much of his diving took place in quarries, inland lakes, and reservoirs. Family vacations, sailing tips, and a home in the Florida Keys provided him years of opportunity to dive throughout much of the Caribbean waters. Having thousands of dives logged, Steve's happy place is teaching and sharing his love for the water with others. After spending the past two years in Puerto Rico guiding and teaching full time, his wife and himself moved to Kansas City to be closer to the family and grandchildren. Steve is an Independent Master Diver Trainer. He takes the responsibility of instruction very seriously and wants to make sure that all students have fun learning in a safe and comfortable environment. Not on the water, Steve likes looking for new equipment, riding his bicycle, and watching the Chiefs in action.
Phone: 215.264.8985
Email: [email protected]
Troy Miller
Store Manager, North Liberty
Open Water Diver
Troy is a former college swim captain as well as a lover of SCUBA, receiving his certification in 2012. As a North Liberty business owner since 2004 (Naomi's Kitchen), he has served Johnson and Linn County clients for nearly two decades. Whether it's swimming laps, or spearing invasive Lionfish while diving Roatan, Troy's happy place is underwater.
Phone: 319.665.2741
Email: [email protected]
Dan Stalder
Store Manager, Lincoln

Born and raised in Nebraska, with no thoughts, dreams, or bucket lists including scuba diving or the underwater world. I became a certified Open Water Scuba Diver in August 2006. My only regret is that I did not start much earlier in my life!!  I instantly had a new passion in life, and now I am blessed to have the privilege of introducing others to the incredible world of scuba diving. I have been a Scuba Store manager since February of 2012, and am currently an SSI Instructor Trainer with the Platinum Pro 1000 recognition. When I am not diving, there is still a good chance you will find me outdoors. I enjoy motorcycles, forestry, hunting, horses, campfires, antiques, cooking, and working on my acreage.
Phone: 402.420.6338
Email: [email protected]
Stephanie Maciejewski
Store Manager, Battle Creek
Originally born and raised in Grand Rapids, Stephanie moved to Kalamazoo in 2017 for MPI Research (now Charles River Laboratories). When she found Sub-Aquatic Sports she started on a professional pathway. Before she became an instructor with SASS, she was an instructor for the U.S. Space and Rocket Center in Huntsville, Alabama. Her next challenge is to become cave and freediving certified.
Phone: 269.968.8551
Email: [email protected]
Dustin Doroh
Business Analyst
With a passion for scuba diving and technology, Dustin brings years of technological experience to the Diventures team. He believes that technology holds the key to enhancing the way in which we conduct business. It is his passion to utilize technology to create positive change. When Dustin is not behind the keyboard you can find him diving the Great Lakes and discovering the history that each shipwreck has left behind. He enjoys sharing this underwater world with others and helping new divers experience wreck diving for the first time. Dustin is always excited to talk about the latest in dive technology.
Phone: 269.501.7273
Email: [email protected]
Corinne Saliga
Travel Coordinator
My love for travel and my passion for helping people brought me to Diventures. I am so excited to guide our customers through the travel process and to build the trip of a lifetime for them! Outside of Diventures, I love plants, crafting, pets, travel, and spending time with my family.
Phone: 402.933.6251
Email: [email protected]
Matt Creighton
Travel Coordinator
Master Diver
I'm a level 4 diver starting back in 2013.  After years of Midwest dives, I finally got to experience Caribbean diving in 2020.  I'm currently an SSI master diver and am working towards furthering my certifications.  Being a safe and educated diver makes the sport more enjoyable for everyone.  The camaraderie found in the scuba community is phenomenal and I'm looking forward to bringing people together to beautiful destinations around the world.
Phone: 402.933.6251
Email: [email protected]
Anna Flairty
Marketing Specialist
Open Water Diver
Anna's aquatic background includes 10 years of competitive swimming and 4 years as a swim instructor. She enjoys traveling, musical theatre, and spending time with her mother. 
Phone: 531.999.3844
Email: [email protected]
Autumn Wood
Marketing Intern

Whether it's working on land or in the water, Autumn is always having fun! She started at Diventures as a swim teacher and recently joined the marketing team! Autumn is a former Omaha Zoo Academy student who values education about ocean conservation in addition to swim safety. She is also a collegiate athlete with a passion for coaching and leadership, which she applies to all her swim lessons!
Phone: 531.999.3844
Email: [email protected]
Visit Diventures to experience our concierge service.