Annelise Gerbig
Swim Teacher
I'm a junior at Wisconsin VirtualAcademy. In the past, I took swim lessons at Diventures when it was called Kittelson Swim School. In my free time, I enjoy training my dog and playing Minecraftt. Currently, I'm learning how to speak Dutch and German.
Phone: 608.630.9800
Ariana Ajdini
Swim Teacher
Ms. Ari grew up around the water and has a love for it. She loves working with kids, especially when she sees them learn new things and have fun in the process. In her free time, she enjoys being with her friends and family and likes to be outside.
Cheyenne Sphatt
Swim Teacher
I started diving at 10 years old and I have always had a love for the water and its beauty! I'm so excited to share my passion for the water and help my students grow their aquatic skills.
Phone: (608) 492-3649
Cora Peters
Swim Teacher
Hi, I'm Ms. Cora and I love working with kids! I especially love seeing all of my student's personalities come out while in class. My favorite classes to teach are baby classes and level one classes. When I'm not at work I like to spend time with friends and family.
Phone: 608.630.9800
Ellie Hinkle
Swim InstructorLifeguard
I've had a long history of love for the water. I started to swim once I could walk. I grew up on a lake and used to supervised my younger cousins in the water each summer.  I took a lifeguarding course in high school and try to get into the water any chance I get. I love to swim around with my friends. I enjoy teaching students the different stroke and safety rules.
Phone: 608.630.9800
Jenn Adams
Swim Teacher
From lessons at a young age to competitive swim, Mrs. Jenn knew she needed to continue to share her passion for the water with others. Now with over 10 years of teaching experience, she brings her love for the water & safety skills to each of her classes. Mrs. Jenn looks forward to helping each of her students exceed their goals and encourages them to always keep pushing. Outside of the pool, Mrs. Jenn loves camping, staying active, crafting, and creating memories with her 4 kiddos.
Phone: 608.630.9800
Jenna Church
LifeguardSwim Teacher
Jenna was in the water before she could walk. She loves helping and teaching others, especially children,
Julie Barrette
Water Fitness Instructor
For over 20 years, Julie has always loved the water and participating in water aerobics. When she retired she discovered Diventures and fell in love with the warm water and the people!
Phone: 608.630.9800
Lisa Wiesner
Swim Teacher
Lisa loves coming to work every day and seeing the kids achieve new goals! When she's not at the pool you can find her spending time with her kids and grandkids listening to country music.
Phone: 608.630.9800Email: [email protected]
Nathan Boehm
Aquatics Experience ManagerSwim Teacher Trainer
Nathan found his love for water at a young age while attending Boy Scout Camp and during summer adventures at the lake. He has 12 years of experience as a certified life guard. He is also a certified scuba diver. He believes safety while enjoying the water is a top priority and enjoys teaching all ages the joys of the water.
Phone: 608.630.9800Email: [email protected]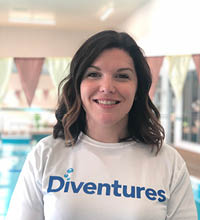 Sara Holley
Store Manager
Swimming has been a passion of mine since my first lesson at age 4. I was a competitive swimmer for over 10 years, traveling all over the United States and Canada for competitions. I come from a family of avid water skiers and enjoy spending time at the lake.
Phone: 608.630.9800Email: [email protected]
Steve Stocker
Water Fitness Instructor
Steve has been teaching water aerobics at the Sun Prairie location since 2015. When he is not teaching you can find him working on the Sun Prairie City Council – one of the fastest growing cities in Wisconsin! He is also very active volunteering in the community.
Phone: 608.630.9800
Teresa Lee
Swim Teacher
Teresa is a proud mom of four children and two stepchildren. She also has two dogs and two cats. Teresa has been teaching swim lessons and lifeguarding for over 30 years! When she isn't at the pool, you can find her working at Prairie View middle school in special education. She loves working with children of all ages.
Phone: 608.630.9800