Cora Peters
Swim Teacher
Cora is excited to welcome kids and their families each day!
Phone: 608.630.9800
Dylan Findley
Swim Teacher InstructorAquatics Admin
Above water or below I want to show you the beauty and freedom water can give. As a competitive Individual Medly swimmer who became a scuba diver and a Water Fitness instructor, every age and skill can grow at Diventures!
Phone: 608.630.9800Email: [email protected]
Jaki Jahr
Swim Teacher
Growing up in California, I've always loved the water and swimming. I make it my goal as a swim teacher to create a fun and comfortable environment for my swimmers to learn in.
Phone: 608.630.9800
Julie Barrette
Swim TeacherWater Fitness Instructor
For over 20 years, Julie has always loved the water and participating in water aerobics. When she retired she discovered Diventures and fell in love with the warm water and the people!
Phone: 608.630.9800
Lisa Wiesner
Swim Teacher
Lisa loves coming to work every day and seeing the kids achieve new goals! When she's not at the pool you can find her spending time with her kids and grandkids listening to country music.
Phone: 608.630.9800Email: [email protected]
Nathan Boehm
Aquatics Experience Manager Swim Teacher Instructor
Nathan found his love for water at a young age while attending Boy Scout Camp and during summer adventures at the lake. He has 12 years of experience as a certified life guard. He is also a certified scuba diver. He believes safety while enjoying the water is a top priority and enjoys teaching all ages the joys of the water.
Phone: 608.630.9800Email: [email protected]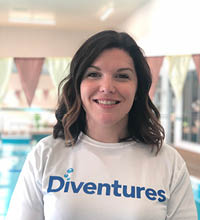 Sara Holley
Store Manager
Swimming has been a passion of mine since my first lesson at age 4. I was a competitive swimmer for over 10 years, traveling all over the United States and Canada for competitions. I come from a family of avid water skiers and enjoy spending time at the lake.
Phone: 608.630.9800Email: [email protected]
Steve Stocker
Water Fitness Instructor
Steve has been teaching water aerobics at the Sun Prairie location since 2015. When he is not teaching you can find him working on the Sun Prairie City Council – one of the fastest growing cities in Wisconsin! He is also very active volunteering in the community.
Phone: 608.630.9800