Diving in the Bahamas is unlike any other diving you'll experience. The diverse marine life and variety of narrow passages and tunnels give divers the chance to be completely surrounded by its beauty.  
The Bahamas is a chain of islands in the Caribbean, southeast of Florida. It's made up of over 700 islands and 2,400 cays. Out of all this land, only 30 are inhabited. 
Central Bahamas was once a popular hideout for pirates. Now it offers crystal clear waters and deserted beaches to explore. These dive sites can only be reached by dive liveaboards.  
Scuba Diving
While diving in the Bahamas, you'll experience a variety of different environments. With the third-largest reef in the world, you'll be surrounded by an abundance of marine life and beautiful walls. Dive through tunnels, caverns and shipwrecks. Explore the ocean floor that is bursting with colorful coral and sponges. The crystal-clear waters and calm currents offer a crisp view of the underwater world around you. 
The average visibility is from 150 to 200 feet. Perfect for a clear view of your amazing surroundings. 
You might see: 
Nassau groupers

 

Porcupine fish

 

Snappers

 

Lionfish

 

Caribbean reef sharks

 

Nurse sharks

 
Boat diving
Waves, tides & currents
Shark ecology
Photo & video
Deep diving
Perfect buoyancy
Neal Watson's Bimini Scuba Center operates six dive boats, including a 60-foot glass bottom boat that can accommodate divers, snorkelers and sightseers. Every day they set out to explore the island's beautiful reefs, wrecks and marine life.
Guanajani Divers is located in San Salvador. Their boats are equipped with sun decks, camera water rinse barrels, large swim platforms with ladders, seated tank racks, bottled drinking water, an ice chest with fresh fruit and well-maintained safety gear.
Bimini Big Game Club Resort & Marina is a boutique resort situated close to everything in Alice Town in North Bimini. Their accommodations include beautifully decorated rooms, cottages and penthouses. You can enjoy their freshwater swimming pool, shaded hammocks, bicycles, complimentary water sports and much more! The resort also is home to the Bimini Big Game Bar & Grill, Sharkies Bar & Grill, Neal Watson's Bimini Scuba Center and a 75-slip full-service marina.
Exuma is composed of over 300 islands and cays known for laid-back culture and stunning natural beauty. The culture of Exuma is shaped by its history as a hub for the salt trade, as well as its fishing and boat-building industries. Exuma is where you can visit Big Major Cay, also known as Pig Island!
Built for a smooth ride, the luxury 102 ft liveaboard offers divers a comfortable and enjoyable experience. The Aqua Cat offers 11 large cabins, individually controlled AC, and private bathrooms and showers. This unique experience cannot be matched. 
The Bahamas Master Liveaboard has ten well-designed cabins and can comfortably welcome 18 divers aboard. Divers can choose between four cabin types. Most cabins have panoramic windows, so there is plenty of daylight and an ocean view.
The 65' liveaboard offers dorm-style bunks with shared restrooms and showers and buffet meals with picnic-style dining. You'll also have the opportunity for hands-on activities such as sailing and fishing.
The  Cat Ppalu is a schooner-rigged sailing catamaran with space for 12 passengers in 6 cabins. Its low draft enables it to anchor close to uninhabited islands for further exploration. While onboard you can also enjoy many water sports like fishing, snorkeling, kayaking and stand-up paddleboarding.
Bimini
Bimini is comprised of a chain of islands 50 miles east of Miami, Florida. Bimini is known for its relaxed and laid-back culture which is heavily influenced by its location and history, with fishing being a central part of its identity. There is a vibrant music scene, delicious cuisine and friendly locals. On top of that, there are beautiful beaches making Bimini a popular destination for those looking to experience Bahamian culture and relaxation. 
Exuma Cays
Exuma is composed of over 300 islands and cays known for laid-back culture and stunning natural beauty. The culture of Exuma is shaped by its history as a hub for the salt trade, as well as its fishing and boat-building industries. Exuma is where you can visit Big Major Cay, also known as Pig Island!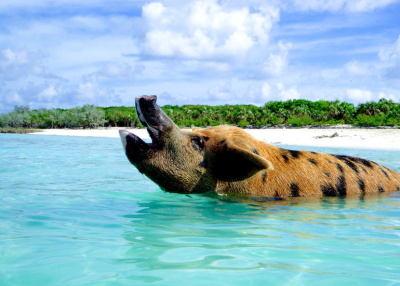 Nassau
Nassau, the capital city of the Bahamas, lies on the island of New Providence. Some popular activities include climbing the Queen's Staircase to Fort Fincastle, racing down waterslides at Aquaventure Water Park and going back in time at Clifton Heritage National Park. Overall, Nassau is a vibrant and welcoming city with a rich cultural heritage.
San Salvador
The people of San Salvador are known for their friendly and welcoming nature. The island has a strong sense of community, and residents often come together for events and celebrations. The culture is friendly and welcoming with an emphasis on parades, cuisine and community.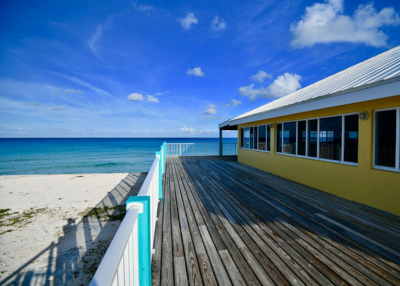 Tiger Beach
Tiger Beach is unique for several reasons, the most notable being that it is home to a large population of tiger sharks. The crystal-clear waters surrounding the beach provide the perfect conditions for divers and snorkelers to observe these magnificent creatures up close in their natural habitat. Divers can also experience other species of sharks, along with sea turtles, rays and tropical fish. Tiger Beach is unique in that it offers visitors the opportunity to witness some of the ocean's most impressive predators in a controlled and safe environment. It is also one of the few places in the world where you can reliably encounter tiger sharks in the wild.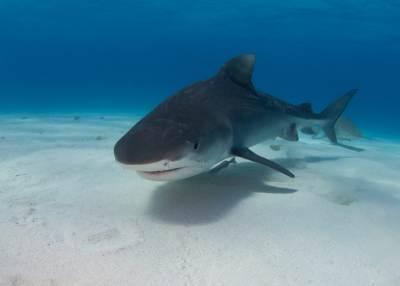 The original residents of the Bahamas were the Lucayan people. They were the first indigenous Americans encountered by Christopher Columbus. The islands gained their independence in 1973 and are a member of the Commonwealth. About 90% of the population lives on the three main islands, New Providence, Grand Bahamas and Abaco. The official language of the islands is English, but locals speak a Bahamian dialect. Three popular indigenous forms of music and dance that you may hear are Goombay, Rake n' Scrape and Junkaroo. 
Harbour Island
Take a trip to Harbour Island for one of the best beaches in the Bahamas, Pink Sand Beach. Pink Sand Beach is home to perfectly pink sand with crystal-clear water. This picturesque beach offers swimming, straw markets, snorkeling and even horseback riding!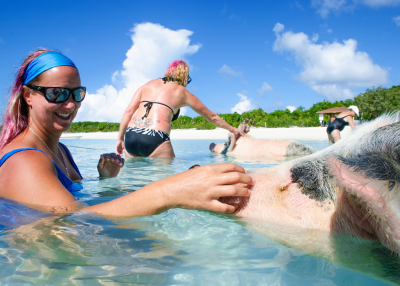 Pig Island
Pigs can't fly, but they do swim! Big Major Cay, also known as Pig Island, in the Exumas, is home to around 20 pigs and piglets. Visit this island for a chance to swim right alongside these playful creatures. The pigs might even swim right up to the boat!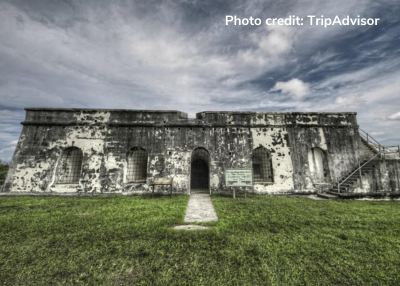 Pirate Forts
Take a trip to the past by visiting historical forts in Nassau. There are three forts, Fort Charlotte, Fort Fincastle and Fort Montagu. These forts were built to protect the island against pirate attacks or to prepare for battles! At Fort Charlotte, the largest of the forts, you can find a moat, dungeons, underground passageways and over 40 cannons. Fort Fincastle was built to protect the island from Spanish invaders. It's located at the highest point in the city, offering spectacular views. Fort Montagu is the oldest fort that is still standing and was used during the American Revolutionary War.  
"Bahamas on the Aqua Cat is a must-do trip. It never ceases to amaze me how much fun and comradery we have on this trip.  There is everything from diving, relaxing, beach time, tons of shore excursions to choose from, an amazing chef on board, a huge dive deck and spacious rooms.  Plus, you cannot beat the number of sharks you will encounter.  I can't wait to be back." 
Dive Insurance
Dive insurance is required on all Diventures trips. We recommend purchasing DAN dive insurance.
Travel insurance
Travel insurance is not required but is highly recommended for all Diventures trips. We recommend purchasing DAN trip insurance.
Currency 
The Bahamas currency is Bahamian dollars, which are equivalent to the U.S. dollar and are interchangeable. If you have US dollars, there is no need to exchange currency on boat or on land.  
Language 
English is the primary language spoken. 
Passport Validity
You need a passport that is valid for 6 months after your arrival. 
Water/Food
Tap water in the Bahamas is generally ok to drink, but bottled water is a safer option.
Need help packing?
We can't pack for you, but we can share our packing list and travel tips.