Where we are diving
Dunbar Rock's reef is a protected marine reserve, making it an ideal spot for scuba diving. Guanaja marks the beginning of the second largest barrier reef in the world – the Mesoamerican Barrier Reef. The reef system is ideal for macro and wide-angle photography. With over 50 dive sites, you'll get the opportunity to dive vertical walls, pinnacles, lava tunnels, and wrecks. The relative isolation of Dunbar Rock means pristine diving, with amazingly healthy coral and sponges. There are also more than 300 identified fish species in the Bay Island waters. Scuba divers frequently see Angelfish, Hamlets, Butterfly fish, Creole Wrasse, Grouper, Jackfish, Moray eels, Octopus, Parrotfish, and resident Nurse shark, "Jack-Jack"! While many dive operators claim to have "concierge diving" no one compares to the incredible service Dunbar's dive team provides. Join trip leaders, Mary Standford and Dwain Gardner on this private island adventure.
Trips like this sell out fast!
Registration closes on August 15, 2021.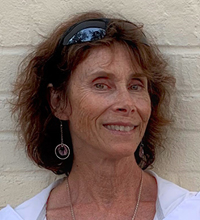 Mary Stanford, Trip Leader
Going on a dive trip to Dunbar Rock is like being on a stationary liveaboard. The ocean surrounds you and you see sunrises and sunsets.  You see pelicans flying just outside your windows. Dunbar Rock treats you like you are family. OK, for some people 'better than family'!  It's a luxurious, yet casual place that has super good diving and very competent divemasters.  Food is well-planned, abundant, made from scratch, and delicious. Accommodations are superb and spacious. Dunbar Rock takes very good care of you above and below the water!
Dwain Gardner, Trip Leader
I am really excited about this trip. This will be my first time there, but I have only heard good things. I am looking forward to this weeklong trip on Dunbar Rock and I hope you can join us. 
Where we are staying
The Villa on Dunbar Rock is a truly unique experience. This 15,000 square foot property is perched on an outcropping with 360° views of Sandy Bay, Guanaja, and surrounding cays; this unique resort blends beauty and serenity. The villa offers a cardio room, infinity pool, private white sand beaches, a pool bar, an on-call masseuse, and a complimentary laundry service. Anything you could possibly want or need is right there on the private island! The concierge treatment you receive on the dive boat is just as spectacular at the villa.
Price
From Columbia: $4,240 per diver

From Omaha, Springfield, North Liberty, Madison: $3,295 per diver (airfare not included)

Room upgrades available for an additional cost
Deposit and payments
$500 deposit due upon sign up
$1,000 due on June 1, 2021
$1,000 due August 1, 2021
Full payment due September 1, 2021
Other info
Prices are based upon double occupancy
All payments are non-refundable
Prices are subject to change due to events outside of our control
Recommended courses
Perfect Buoyancy
Underwater Photography
Enriched Air Nitrox
What's included
Roundtrip airfare from Columbia, MO
7 nights of accommodations
3 meals per day
All beverages
5 days of 3 tank boat dives
1 day of 2 tank boat dives
1 night dive
Nitrox
Wifi
Boat transfers
Unlimited shore diving
Tours by Dunbar Rock staff
Sea kayak and jet skis
Rental gear
What's not included
Airfare from Omaha, Springfield, North Liberty, Madison, Diventures will assist
Covid test to enter Roatan
Covid test to return to USA
$10 cash environmental fee
Gratuities, suggested $300
Recommended equipment
Shearwater Teric dive computer
SeaLife Micro 3.0 underwater camera
ScubaPro Hydros BC
The folks at Dunbar Rock's motto is "Arrive as friends, leave as family" and they do just that. The personal touch and attention from the people of the resort were truly immeasurable and heartwarming. The diving was splendid. This is one dive trip you cannot afford to miss, put it on your list now and have the time of your life!
– Wade G 
Know before you go
Location
Guanaja is the eastern-most of the Bay Islands off of Honduras. It is situated about 18 miles east of Roatan and 30 miles north of the mainland of Honduras. Dunbar Rock Villa is just off the mainland, about a 10-minute boat ride from the airport.
Language
English is the first language of all native islanders regardless of race and Spanish is spoken second (whereas mainland Honduras is primarily Spanish speaking).
Money/ATM
There is no need to exchange Dollars for the local Lempira's as everywhere will accept USD. Small bills are encouraged, as generally, you will receive change in Lempiras. Banking is limited on the island of Guanaja. There is only one bank, Banco Atlantida, and no ATMs. Visa and Mastercard are accepted at the Villa so there will be little need for you to carry cash around.
Weather
Prevailing ocean breezes keep the temperature comfortable year-round. The temperature is generally in the low 80s, only occasionally getting into the high 80s during August and September. The average rainfall is 100 inches a year which helps keep the island lush and green. Guanaja's rainy season usually begins around October and lasts until December or January.
Entry requirements
To enter Honduras, you must present a U.S. passport with at least six months remaining validity. U.S. citizens do not require a visa for tourism, but you must provide evidence of return or onward travel.
Exit requirements
Travelers must clear Honduran Immigration to depart the country. Travelers must return the copy of their immigration document or entrance permit they received when entering Honduras before exiting. If you are departing via air, travelers must pay an airport tax of approximately $40.00 US. In most cases, this will already have been included in your domestic airline ticket payment. But if not, the airport tax is payable at the airport in cash in either U.S. dollars or lempiras or by credit card.
Room amenities
Each room is individually air-conditioned and has a digital safe for your valuables. All of the rooms also overlook the water. Please note all of the rooms are non-smoking rooms. A US $50.00 per incident fee will be charged for smoking in the rooms. Smoking is allowed at the pool bar.
Tipping
10% is standard. They utilize a tip pool to ensure housekeepers, restaurant servers, bartenders, cooks, dive staff, tour guides, or anyone else that provides good service, participates in an equitable manner. It is best for you to present tips directly to Denis, the General Manager. Any tips given directly to individuals will also be pooled. If you feel someone did an outstanding job, please be sure to mention that to the General Manager as positive feedback can increase an individuals' overall compensation. By the same token, they also need to know about anything or anyone whose service fell short.
Water
There is a freshwater spring on mainland Guanaja from which the Resort obtains and purifies the drinking water. It is available to you free of charge from the water cooler in the common area and on the dive boats. The water is safe to drink and of excellent quality, however, bottled water is also available at the bar for purchase. Be sure to remain well-hydrated while on holiday!
Packing
The dress at the resort is very casual. You will not need anything other than t-shirts and shorts. If you plan to hike, bring a pair of closed-toe shoes. They will provide shampoo and hair dryers in the bathrooms. Beach towels and all linens are provided. Please bring your own travel alarm clock if needed. The electric plugs in your room are the standard US 110 V plugs.