Abundant marine life and gorgeous reefs
Where we are diving
Join us as we head to Cayman Brac for a tropical getaway! With almost 70 dive sites to choose from, there is something for every level of diver. You'll enjoy little to no current and unlimited visibility as you explore beautiful walls, amazing swim-throughs, and gorgeous reefs with ample marine life. No visit is complete without checking off a dive at their artificial reef, the MV Captain Keith Tibbetts which is a 330-foot long Russian frigate renamed and sunk in 1996.
During our trip, we will be diving with Reef Divers Dive shop. You can sit back and relax as they handle all the heavy lifting. They will rinse, dry, and store your BCD and regulator daily, so they are set up and ready for your next dive. At the dive shop, they have separate rinse tanks for photo equipment and wetsuits, and general dive gear, plus a dry room with hanging space for wetsuits and mesh bags so you don't have to take them to your room. Venture to Cayman Brac this fall with trip leader, Linda Maune!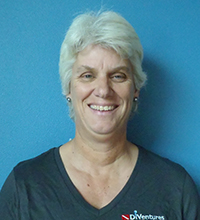 Linda Maune, Trip Leader
The Cayman Islands are a jewel sitting out in the big blue waiting to be explored! I love "the Brac" as it isn't too big, or little….it is THE BRAC!  The diving can be on either side of the island and the diversity of life ranges from big to little!  The resort has enough of all you need, especially the food!  Oh my!  Each meal is a wide selection of delights!  The pool is so easy to hang out by when not diving!  The sounds from waves breaking will have you napping in a hammock or enjoying a book on your porch or patio.  Come travel with me to Explore the beautiful Cayman Brac Beach Resort where they pride themselves on "Valet Diving"!
Trips like this sell out fast!
Registration closes on July 9 2021.
Where we are staying
"The Brac" as you will come to know her, is one of the three Cayman Islands. Most of the roads are flat and good for bicycling to see nature trails, explore caves or climb the iconic bluff (named "Brac"). Cayman Brac Beach Resort is an intimate resort with all of the large resort amenities. The rooms face the beach and they include a coffee maker, toiletries, hairdryer, TV, and complimentary wifi. After a long day of diving, you can relax at the Island Prime Restaurant and then pop over for a drink at the Tipsy Turtle Bar. This is the spot to come, relax and take a tropical vacation! 
Price
From Omaha: $3,170
From Springfield: $3,280
From North Liberty: $3,090
From Madison or Columbia: $2,405*
Deposit and payments
$500 due upon sign up
$500 due on July 1, 2021
Full balance due August 16, 2021
Other info
Non-diver: $2,900 from Omaha, $3,010 from Springfield, $2,810 from North Liberty, $2,135 from Madison or Columbia
Prices are based upon double occupancy
All payments are non-refundable
Prices are subject to change due to events outside of our control
Recommended courses
Enriched Air Nitrox
Boat Diving
What's included
Roundtrip airfare and transfers
All meals
13 dives
Welcome rum punch
Nitrox
What's not included
*Airfare from Madison and Columbia, Diventures will assist
Alcoholic beverages
Gratuity and taxes
Covid testing to enter the Cayman Islands
Covid test to return to USA
Recommended equipment
Suunto D5 dive computer
Hydros BCD
"The 
Brac
 is known for beautiful diving with little to no current and unlimited visibility. This makes it an excellent spot for new divers and beyond amazing for experienced photographers and videographers. Her beautiful wall dives are full of arches, swim-throughs, gorgonia, sponges, fans, and fish life all competing for your attention. She has a Russian frigate, nicely covered with life which is perfectly situated for divers of all skill levels with the stern in shallow water and the deepest section at 90 feet. This island gets relatively, fewer dive tourists each year so it has stayed pristine and untouched."
Know before you go
Water
The water is perfectly safe to drink but if you have a sensitive stomach we always suggest you drink bottled water.
Electricity
There is no need for an adapter when traveling from the US.
Money
There is no need to exchange money before going to Cayman Brac. The US dollar is widely accepted.